Stettler Christmas Hamper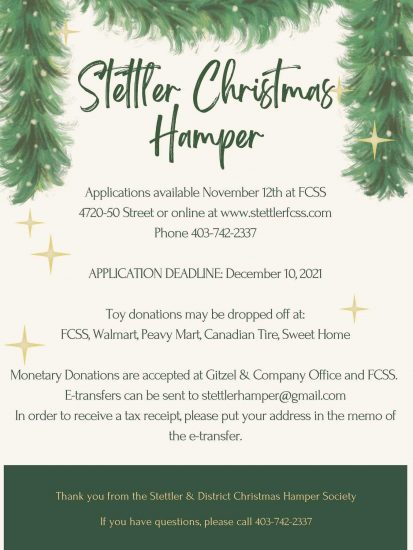 Applications available November 12th at FCSS, 4720-50 Street or online at www.stettlerfcss.com. Application Deadline is December 10th.
Toy donations may be dropped off at:
FCSS
Walmart
Peavy Mart
Canadian Tire
Sweet Home
Monetary donations are accepted at Gitzel & Company office and FCSS.
E-transfers can be sent to [email protected] In order to receive a tax receipt, please put your address in the memo of the e-transfer.
Thank you from the Stettler & District Christmas Hamper Society.
If you have questions, please call 403-742-2337.
Posted November 9, 2021
© Copyright 2021 Stettler Information & Referral Centre