Community Volunteer Income Tax Program
Please note our new office location: 4804-50 Street. Directly across the street from Scotiabank.
Fill out the form printed on the white envelope and fill out/sign the marked (X) parts of the taxpayer authorization form.
Place the taxpayer authorization form and your appropriate tax slips / information (T4 slips, detailed prescription printout from your pharmacy, receipts for medical expenses, charitable or political donations) in the white envelope. DO NOT bring your tax information to us until you have received all of the tax slips from employers, government agencies, or banks, etc.
Call our office if you have any questions: 403-742-1155.

We look forward to helping you with your 2022 income tax return.
Stettler Connects Information and Referral Centre
4804 50 Street, Stettler, AB

The Community Volunteer Income Tax Program (CVITP) has existed since 1971 and is a longstanding partnership between the Canada Revenue Agency (CRA), and community organizations and their volunteers.

In order to be eligible for the CVITP, individuals must have a modest income and a simple tax situation.
Modest Income:

The following table provides a guideline to determine if an individual is eligible for the CVITP. In general, a modest income means the total family income is less than the amount shown in the chart below, based on the size of the family.
Suggested income levels
| Family size | Total family income |
| --- | --- |
| 1 person | $35,000 |
| 2 people | $45,000 |
| 3 people | $47,500 |
| 4 people | $50,000 |
| 5 people | $52,500 |
| More than 5 people | $52,500, plus $2,500 for each additional person |
Family size includes an individual, or a couple, and their dependants.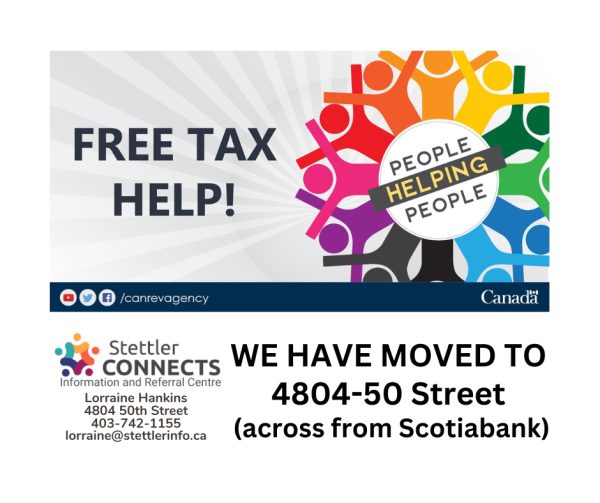 Posted March 8, 2023
© Copyright 2023 Stettler Information & Referral Centre